It is called "dorayaki" and many fans of the famous cartoon series "Doraemon" know it as the favourite sweet of this curious cosmic cat. Undoubtedly, a sweet that stands out for its shape, its taste and its multiple combinations of flavours, becoming today the most fashionable snack not only in the East but also in the West. At Oriental Market we are pleased to present our new Dorayaki range of flavours, you will want to try them all!
Dorayaki is very easy to describe. It is a sweet cake made of two round biscuits (this type of bread is called "kasutera", a shape invented in 1915 by Ueno Usagiya) that usually includes anko (a spice of sweet red bean) and chocolate as filling, but in the last few months it has been renewed with many new flavours. Originally dorayaki had only one layer and was usually eaten with tea. But what other flavours can be found as filling for dorayaki?
Types of Dorayaki that we have in our Oriental Market shop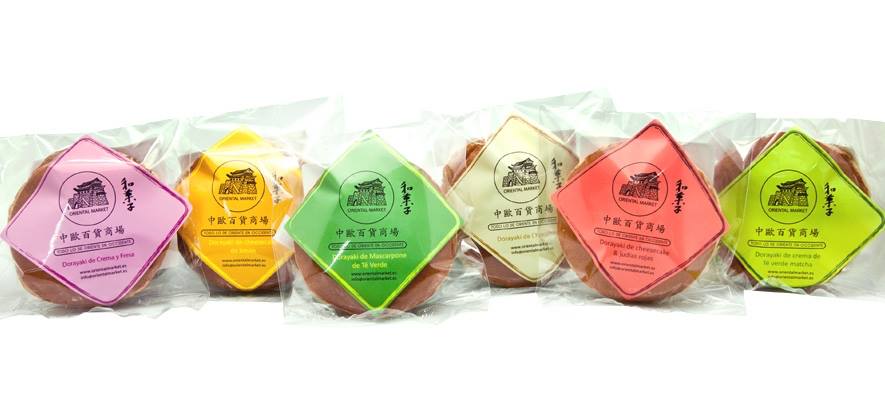 Lemon and cheesecake Dorayaki: a perfect dorayaki for cheesecake lovers. It features the perfect combination of the sweetness of the sponge cake with the acidity of the lemon.
Chocolate Dorayaki:: the favourite variety for chocoholics. A dumpling filled with intense chocolate and excellent creaminess.
Dorayaki de crema y té verde: a traditional Japanese sweet that includes the flavour of one of Asia's most popular herbal teas. The flavour of premium quality powdered green tea stands out. There is also a second variety with green tea, the green tea and mascarpone Dorayaki.
Cream and strawberry Dorayaki: for lovers of this delicious fruit, this fruity dorayaki has a texture similar to that of strawberry jam.
And finally, the most traditional dorayaki in this Oriental Market series, the Red been Dorayaki: to which we have added an innovative touch, cheesecake.
Remember, each dorayaki weighs 75 grams and contains milk, wheat flour, egg and may contain: soy, sesame seeds, peanuts and mustard. If you are not allergic to any of these ingredients, our recommendation is that you try each of them and tell us, which flavour do you like best?
A curiosity: A Japanese legend tells that the first dorayaki was made when a samurai called Benkei forgot his gong (dora) after leaving a peasant's house where he was hiding and the peasant subsequently used the gong to fry the fritters, hence the name Dorayaki.