The current situation, due to the pandemic, has led to a boom in take-away food. Take-away has become particularly important due to the impossibility of being able to go to restaurants to eat. Asian food, especially sushi, is one of the most popular options among consumers and, for this reason, at Oriental Market Barcelona we offer a wide variety of sushi made with fresh ingredients and quality products. We know that the key to good sushi is undoubtedly the use of good raw materials, which is why we use fresh fish of the day and original products from Japan such as seaweed, soy or wasabi, which you can find both in our physical shops and on our website.
What varieties of sushi do we prepare?
Nigiri
Nigiri is the most popular and well-known type of sushi in Japanese cuisine. It consists of a piece of rice that is moulded with the hands into a cylindrical shape. A piece of fish or seafood is usually placed on top of this piece, and the bottom can be decorated with a seaweed leaf. At Oriental Market you can enjoy it with salmon, tuna, sea bream or prawns.
Uramaki
Uramaki is very similar to maki, but the difference between the two lies in the use of seaweed. The main characteristic of maki is that the seaweed is wrapped around the rice. However, in uramaki, the seaweed is placed on the inside, so the rice remains on the outside, visible. It is often garnished with sesame or other toppings. It is available with salmon, avocado and cream cheese.
Maki
Maki is another popular sushi option. The meaning of the word "maki" is rolled, so this variety stands out because the seaweed wraps around a roll of rice that is usually filled with vegetables or fish. The roll is usually cut into eight small portions that are meant to be eaten in one bite. You can choose from salmon, avocado, tuna, prawn, mango, cucumber or battered chicken.
However, although Oriental Market offers these types of sushi, there are other variaties with infinite possibilities that are prepared in Japan and that you should try if you are passionate about Asian cuisine like us.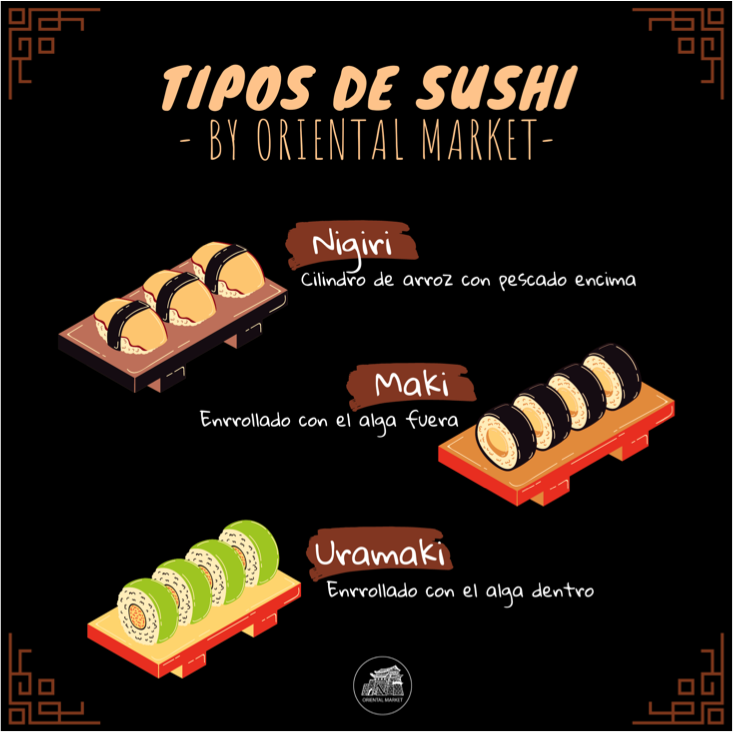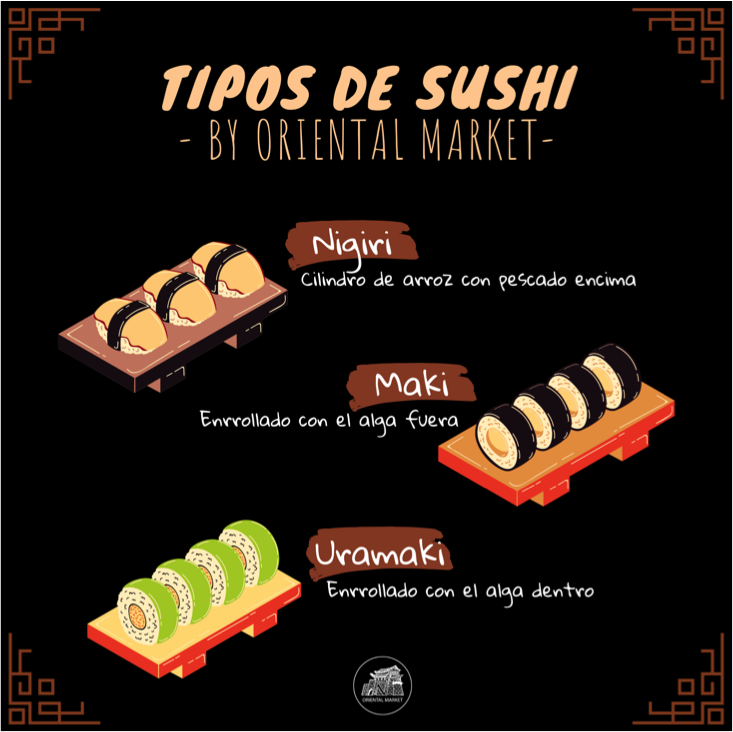 Fusion packs for the more indecisive
If you are one of those who find it hard to choose or you simply fancy trying different varieties and indulging your palate with flavours full of contrasts and sensations, these packs are for you. The fusion trays are made up of 10 to 20 pieces and combine the varieties described above. If you want to try the same type of sushi but with more than one flavour, we have a pack for you. If you want a bit of everything, both different types and different ingredients, we also have packs for you. At Oriental Market we have created these fusions to show that sometimes you can have it all. Besides, this option is perfect to enjoy alone or in company, it depends if you feel like sharing the moment in company.
About ordering
If you have decided to try our sushi creations, you can pick up your order at our shop in Barcelona (Carrer de Sicília, 212). Our opening hours are from 10am to 2pm and from 4pm to 8pm. You don't need to place your order in advance, you can come directly to the shop to buy your sushi.
The number of sushi units per tray varies depending on the type of sushi. In the case of nigiri, for example, the tray comes with 6 pieces of salmon nigiri. The uramaki comes with 9 pieces, and the maki comes with no less than 20 pieces. On the other hand, we offer a total of 6 fusion packs with different combinations to suit all possible tastes and preferences. Of course, all the trays are made of plastic and are heat-sealed, perfect for not altering either the flavours or the aromas of the delicious morsels.
And you thought that was all? No, you didn't. If you are not a sushi lover or you want to complement it with other types of dishes, at Oriental Market we also prepare other specialities of Japanese gastronomy. Try our udon, our yakisoba or Vietnamese rolls to finish your journey through the Asian continent from your sofa. Don't miss it!
*You can find the prices and specific specifications of each of our products below:
[photos of the packs with the units and price].